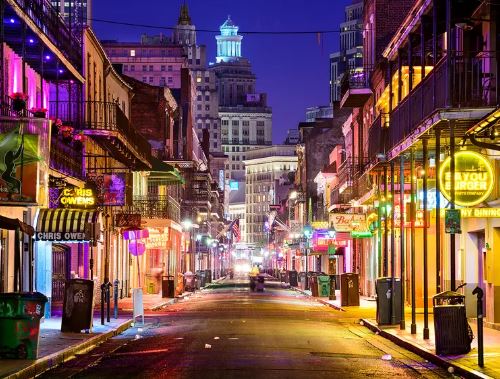 Regular visitor to New Orleans and friend of the site Mark Daley has written a handy guide to making your first trip to New Orleans
Getting to New Orleans for the first time – a package or do it yourself?
There is just about no other football experience to match seeing the Saints play in the Dome. From the pre-match tailgating, the Champions Square pre-match party, to the fans (especially the Super Fans), the noise and the SuperDome itself, watching the Saints is an awesome experience.
But before you go, there is planning to be done. We all know part of the fun of a holiday is the planning. Well, it's fun most of the time. But planning for a trip to go see the Saints, particularly for the first time is extremely exciting, but can also seem a little daunting. How to get tickets, where to sit, where to stay, what to do. When you don't know the lay of the land, sometimes it's a little difficult to know what to how to go about things.
That's why I always ask people going for the first time whether they have considered doing a package tour with one of the specialist tour companies such as Sports Travel Tours or Touchdown Sports. Don't get me wrong, it's cheaper to do it yourself, and sometimes it's more fun to organise your own trip.
But I myself have used a packaged tour company before just to get things done easily and in some cases, a little differently. I personally used Sports Travel Tours a couple of times to go to Saints matches. The first time was for the Saints first game after the Super Bowl win and the second was to do a bit more than just Saints football. Having a guy on the ground was really helpful and having to do hardly anything but follow orders is sometimes just what the doctor ordered.
Consider this – if you are lucky, you can do a High School game on a Friday, LSU on Saturday and a Saints game on a Sunday – all organised for you – with Tailgates thrown in. I managed to do all these except LSU wasn't playing so we did a stadium tour instead (which is very very good). And we got to say hi to Mike the Tiger.
It's definitely worth thinking about a package – taking the hassle away and giving you a good taster on how to build your next trip yourself.
Of course, package tours do cost a bit more and for obvious reasons.
There are just as many if not more good reasons for doing it yourself. To be able to create a do it yourself itinerary, and do it at a lower cost is great.
So where do we start. Getting there is pretty easy these days. BA now does a direct flight to New Orleans from London, the only company to do so. There are many other indirect options, usually adding about 3-4 hours to the journey depending on your turn around time.
I usually fly with United via Houston but all the US carriers offer pretty decent options and many are cheaper than the BA direct flight.
For accommodation, New Orleans is full of hotels of all designations and cost levels. One tip for a first trip is try to stay in the French Quarter area, or close to it in the CBD. You will want to experience the Quarter and all it entails and not have to worry about cabs and safety. For a short trip, there are a couple of hotels near the Dome, these are normally more expensive such as the Hyatt. But you have many options and nearly all hotels in the Quarter are decent quality and / or experience.
There are some older type hotels as well, which give you a real old time experience. Places such as Grenoble House and others give you a feel as to what it was like to live in the old Quarter style homes. They are often a bit more expensive than standard hotels but if you can afford it, they are a great way to experience New Orleans.
Recently, Airbnb has thrown up lots more accommodation options in New Orleans. You can stay in an apartment or house and many are available in the Quarter. Be aware that you should probably select ones that are in the Quarter or on Canal or Poydras Streets and not outside. In between Canal and Poydras street is known as the Central Business District or CBD. There are still some areas in New Orleans that are dodgy, so you probably need to have some experience of being in and around New Orleans before you start to venture out of the Quarter or CBD to stay. If you do, then the Garden District is your best bet.
So once you have booked your place to kip, on to match tickets. Saints games are always a sell out and there is a season ticket waiting list of about 40,000 people. However tickets are easy to get via the official secondary market which is accessible via the Saints website. The Dome is now a non paper stadium except for Season Ticket holders. So if you are buying tickets from a secondary market, you will need your mobile phone and the app for the ticket provider you bought the tickets from.
I always use the Saints official reseller which is the NFL TicketExchange. This is accessible via the Saints website. There are other sales sites such as Stubhub which may sometimes be even cheaper. But its pretty easy to access tickets to the Saints via any of these sites. SeatGeek is another is on the way to being the Saints new ticket resale partner as it is already with the Pelicans.
Note that there is no need to plan ahead for transport from Louis Armstrong Airport. Taxis are a flat rate of $36 for two people (you should pay the driver $40 which includes their tip) and are available straight out from the Baggage Hall. You can also get a hotel shuttle which is cheaper but may take a while longer as you shuttle around the various hotels.
New Orleans is easy to get around on foot, so it's not necessary to rent a car unless you want to leave the quarter and do your own thing. Uber is readily available as well if you want to do side trips to Lakeside Mall or other places of interest.
If you do want to rent a car, it's not too difficult. The car rental area is a short walk from the terminal and it's all pretty easy. If you have your own phone GPS, don't forget to pack a power adapter for the car. Parking in downtown New Orleans can be a challenge, so try loading up one of the various US Car Park apps on your phone. Some allow you to pre-book the parking. There are a couple of reasonably cheap parking garages in the quarter so look for them to park your car. Doing a bit of car park research beforehand will be a real advantage to you.
It's a good idea to have a look at the tours you might want to do before you go, as many of them will book up a way before the actual date, especially some of the more unique walking tours. There are all sorts of tours to choose from, including a Hurricane Katrina tour which is useful for understanding the mentality of Saints fans and New Orleanais in general. There are the Plantation and Bayou tours that get you out of the city if you have the time, and are generally very interesting and a lot of fun. There is also a great Movie Tour as well, if you are a fan of the Treme and NCIS New Orleans TV series then this is a fun way to see the live filming locations – and they are still filming NCIS New Orleans so you never know what you might see in season. But it's the walking tours of the Quarter that are the bread and butter tours and where I suggest you start your planning.
There are plenty of them available, but it's worth booking them in advance before you leave if you can and you are sure of your itinerary. You can google New Orleans walking tours and you will be offered plenty of options.
If you want to catch a Pelicans game and if you have the time and they are in town, then you should, then tickets can be bought online via their website which is run by SeatGeek. The stadium is right next door to the Dome and therefore is within walking distance from the Quarter.
Finally, if you fancy going to Preservation Hall, there are limited tickets for each session that can be pre-booked and I suggest that you do so before you leave as they sell out well in advance.
Don't forget your USA power adaptors too!
So, if you are a Saints fan, you need to go see the Saints play in the Dome! Just do it, you know you want to!
WHODAT!
Mark (@markodaley1)
If anyone has any tips of their own they want to share then please get in touch either on twitter or by using the contact form on this site