James spoke to long time Saints fan Ali Gibbs this week.
1. Why did you start supporting the Saints and how long have you been a fan?
I have been a fan since 1981. When the NFL started to get some coverage on British TV, I loved it. I didn't support any team until I saw Archie win a game against the Bengals with a late TD and the sheer excitement and relief (we were bad) shown by the team got to me and from then on I was a Saint.
2. How many Saints games have you been too (In England or the USA)
I have only seen them live at Wembley. I plan to make my first visit to the Dome next season now that I am financially able.
3. Favourite historical Saints player and why?
Reggie Bush. I know he would probably struggle to get into the Saints all time top ten players but I loved him. When he used to stand back as the punt returner and the crowd at the Dome went crazy chanting 'Reggie, Reggie' it was just great, especially when the punter stupidly kicked it to him and he ran one in! Shout out to Rickey Jackson and Pat Swilling too who were fantastic in a poor team.
4. Favourite current Saints player and why?
Drew Brees (predictably). I have seen somewhere in the region of a dozen Saints QBs and I cannot even begin to explain how important Brees has been to changing us from (at best) a middle of the road team to what we are now. Watching the Saints and being pleasantly surprised when we won is a thing of the past. We now expect to win in almost every game. That is because we have Brees. GOAT.
5. Best moment supporting the Saints?
Apart from the obvious, one of my favourite moments was Morton Anderson kicking off in our first play off game. It was against the Vikings in the Dome in 88 with John Madden commentating and so exciting to actually be in a post season game! Even better, Rickey Jackson picked up an immediate fumble and we scored on pretty much the next play. The Dome and my house went mental! We got well beat after that but it was such a great feeling at the start of the game.
6. What are your expectations for the season now we are at the midway point? Do they differ from what you thought at the beginning of the season?
At the beginning of the season I was not worried about any of the teams in our division and thought we would go 12-4 but not have home advantage in the playoffs. Now, I am worried about the Panthers but still think 12-4 and the Panthers games will decide on hole advantage or not. We are obviously going for it this year as I think the team may start to break up next year when new contracts need to be agreed for some of our better players,.
7. If not the Saints which team is going to win the Superbowl this year?
I have always had a soft spot for the Chiefs as my AFC team and, if we cant win it, I hope they do. They have not blown up yet this year which makes a change!
Thanks to Ali for taking part this week, was great meeting you and Tom at Wembley a few weeks back too!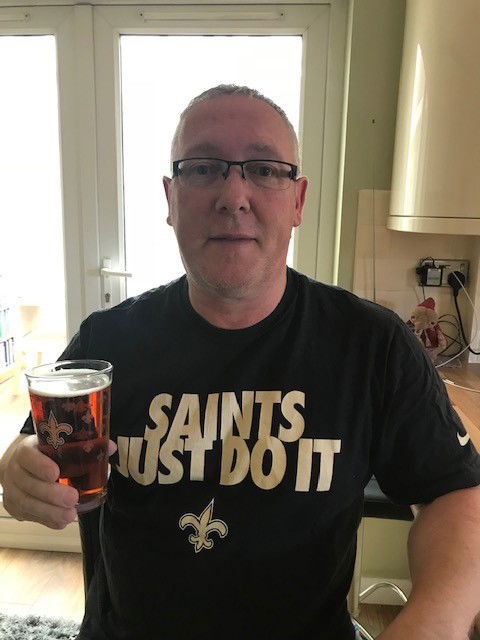 WHODAT!
James