1. First off, please tell us a little bit about yourself and how long have you been a Saints fan?

So I'm a born and bred Londoner, working up in the City, and a pretty keen fan of sports. I should have been a sports journalist!

I have season tickets at each of Arsenal, Nottingham Forest and my local to home non-League side, Sutton United! Also a member for many years at The Oval, I've been on various boards and committees of Surrey CCC over the last 15 years. I've been a Saints fan since the 1980s..... they're my one and only love when it comes to the NFL!

2.Why the Saints?

That's an easy one..... my uncle is a jazz musician, and as a kid he used to come back here to visit and tell us about New Orleans, the history, the people, the music. And I remember him telling us that their American Football team was called the Saints, they had never ever won anything, the fans wore paper bags on their heads, and they had a coach called Bum! So it just had to be the Saints......

3. How many Saints games have you been too either over here or travelling to the States?

I have been to all THREE games they've played at Wembley - yes I went in August 1990 when they played the Raiders in one of the American Bowls at the old stadium.

The Saints and Raiders both practiced at the Crystal Palace National Sports Centre the week prior to the game, and there were a fair few Raiders fans, but only one Saints fan that I could see in me.

As such, I got to watch them practice close up all week, and met the likes of Jim Mora and Morten Andersen as well as spending an hour or so with the late Jim Finks who was just a really great guy and very interested in how NFL was doing in the UK back then. I was also interviewed by Jim Henderson and Archie Manning for TV back in New Orleans.

I have a pretty much fully autographed Saints media guide from that season as a result, excluding Bobby Hebert who went on strike that season because Tom Benson wouldn't pay Bobby what he thought he was worth!

I don't know the exact number but I'm going to guess at around 50 Saints games over in the US through the years, including trips to San Francisco, Denver, Houston, Kansas City, Buffalo, Detroit, New England, New York (both Jets and Giants), Philadelphia, Charlotte, Jacksonville, Tampa and Miami.....

4. What was the first live Saints game you attended?

Wembley 1990 was my first live game, and resulted in me taking my student loan out that autumn, so I could immediately go and spend it on a trip for Christmas and New Year to New Orleans!!!!

An instantly forgettable 9-6 defeat against Pittsburgh back in December 1991 left the Saints at 6-8 and all but mathematically out of the playoffs.

The Saints then went out to the West Coast to play a great 49ers team who I think were 14-1 going into the game, and so, of course, the Saints won!

Dallas collapsed from an 8-6 record to finish 8-8 and so, if the Saints won the very final regular season game against the Rams on Monday Night Football on New Year's Eve in the Dome, then we would get to 8-8 and get the final playoff slot.

Leading 17-3 with 5 mins to go, the Saints then inevitably gave up two long drives for TDs to a Rams offence led by one Jim Everett, only for the Saints to get into range with a few seconds left to let Morten Andersen kick us the field goal to win it 20-17 and take us into the final playoff slot.

That was a really memorable second game in the Dome for me and you can imagine what New Year's Eve was like in the City with the Saints making the playoffs (for only the second time back then).

5. Who is your favourite all time Saints player?

There have been some great players over the years - Morten Andersen, each of the Dome Patrol who were just so amazingly dominant in their time, Deuce McAllister, Joe Horn, Willie Roaf, and don't forget Archie Manning, through to the likes of Marques Colston, Jeremy Shockey, Darren Sharper, Jon Vilma, Reggie Bush, Pierre Thomas was a very underrated player...... but you can't ever go beyond Drew Brees.

He's been as inspiring off the field as on it, we should appreciate everything he has done for the franchise and the City and the whole Gulf Coast post-Katrina. Without him, none of what we are enjoying right now would be happening. The greatest player in Saints history without any hesitation and question. Keep him fit and on his feet and I think he's still got a few more years left in him yet. We will never see his like again in a Saints uniform.

6. Who is your favourite current Saints player?

I think I've given that one away already!

Right now you've also got to say the likes of Cam Jordan, Demario Davis, Sheldon Rankins, Michael Thomas, Terron Armstead, and Alvin Kamara, all of whom are either at the top of their careers or on an upward trajectory. And never ignore how good a punter Thomas Morstead is.

7. What has been your most memorable moment supporting the Saints?

I've been fortunate to be at some great games and some big moments in Saints history.

In addition to New Year's Eve 1990, I was at the Monday Night game in 2009 when the Super Bowl-bound Saints just demolished the Patriots and Brady was pulled from the game in the fourth quarter.
Being at Super Bowl XLIV in Miami was clearly "bucket list" stuff, although I missed "Ambush" as I was still queuing for a pee after the halftime show by The Who!! There were tears from the many Saints fans around me (and I broke down in tears as well) when Tracy Porter returned that interception to clinch it. Truly an amazing emotion-filled finish to the journey to comeback post-Katrina.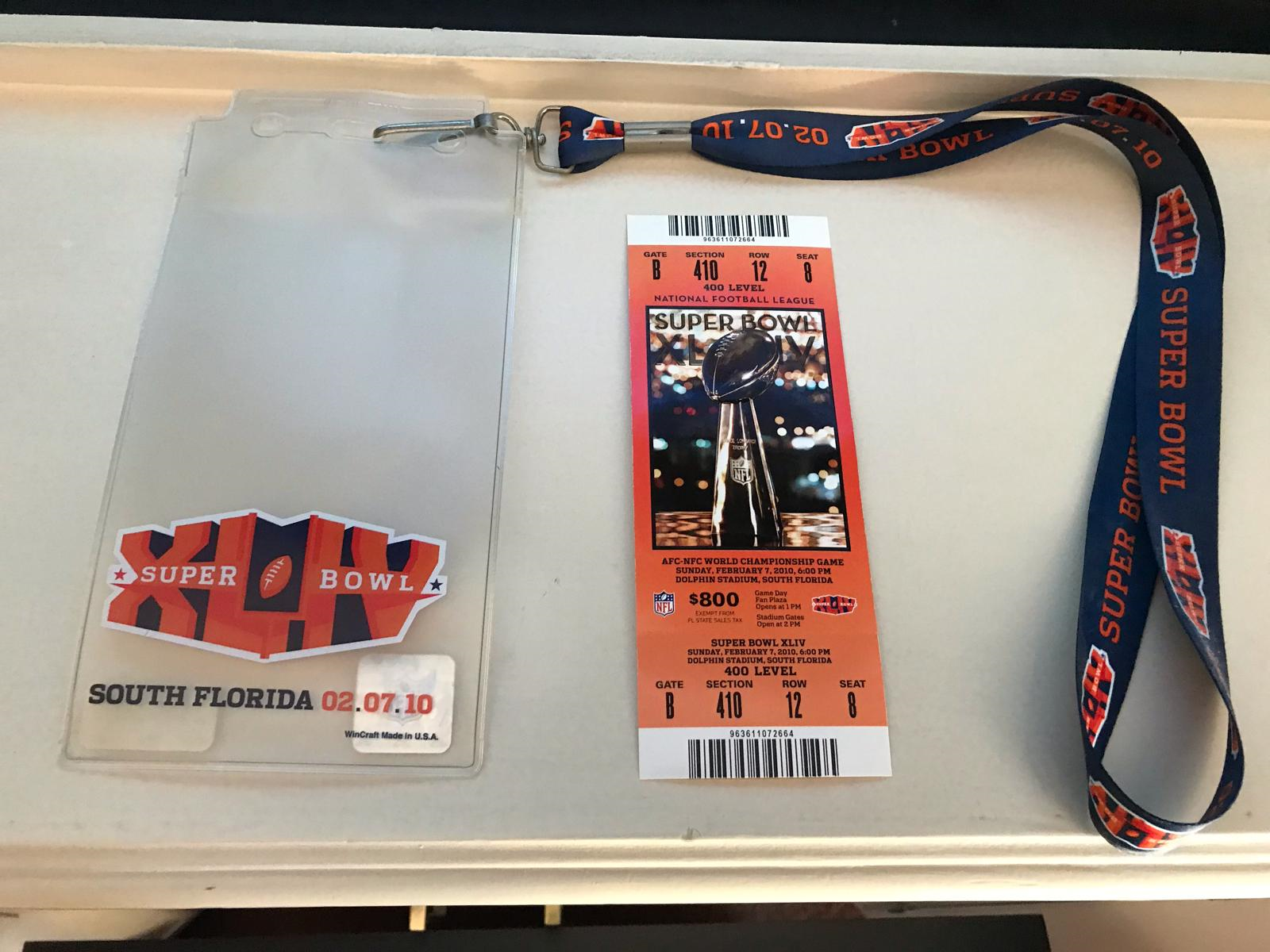 Elliott's Superbowl 44 TicketBut you can never ever beat the return to the Dome on Monday Night Football against Atlanta..... it was effectively a mini-Super Bowl in itself. ESPN had been broadcasting live from the Dome from breakfast onwards. You had the pre-match Green Day and U2 concert ("The Saints Are Coming"), the National Anthem from two local legends in Allen Toussaint and Irma Thomas, and then George Bush doing the coin toss. The Dome was electric that evening, Michael Vick fumbled out of bounds on third down, and then you saw Steve Gleason breaking through untouched and bearing down on Michael Koenen, and, well, you know the rest....

The Dome just exploded, the Saints were back, the City was back and the Gulf Coast was back. Truly a moment that still triggers the hair on the back of your neck to stand on end!

Whilst mentioning him, God bless Steve Gleason - an inspiring man if ever there was one given all he has gone through, and continues to go through.

8. What is your favourite/most memorable Saints play of all time?

Tracy Porter, a Louisiana local of course, at the Superbowl would ordinarily take it.

But I've given it away already, it has to be, and will always, be "#NeverPunt". That moment was about far more than just a football game.

9. Who was your MVP last season?

Tough one to call. Brees has had a different season stats wise to previous years but his leadership and control of the offence is as good as its ever been. Mike Thomas has been stellar, as has DeMario Davis on defence.

And I love Taysom Hill - talking to Jeff Duncan of the Times-Picayune when he was here in London earlier this year, he called out Taysom Hill as one that Sean Payton has said he rated very highly and liked.

I will go with Brees as MVP because without him none of this happens, but you've got a number of MVP's on the team this season.
Huge thanks to Elliott for taking the time to speak with us and as you can see he is a very dedicated Saints fan having attended the majority of the seminal games in Saints history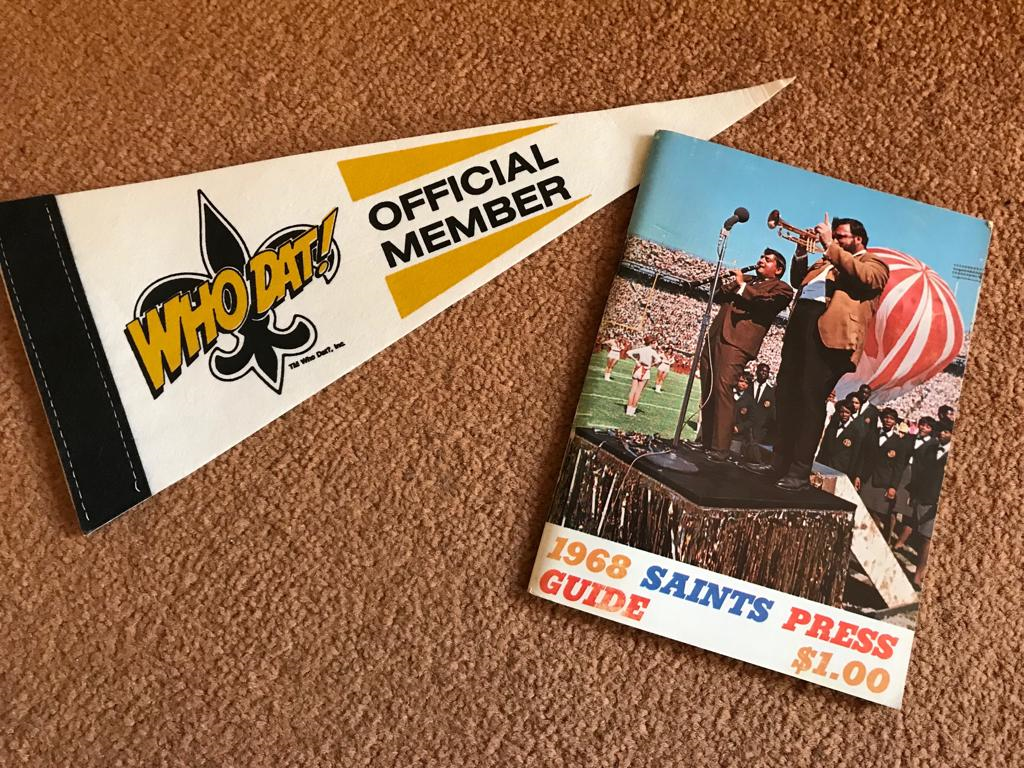 Some memorabilia from Eliiott's collection