Welcome to the first installment of our 'Meet the Fan' articles. With these we aim to find out more about the UK Saints fans, their backgrounds and how and why they love the Saints.
This week James caught up with Saints UK/Aussie super fan and all round good bloke Mark Daley.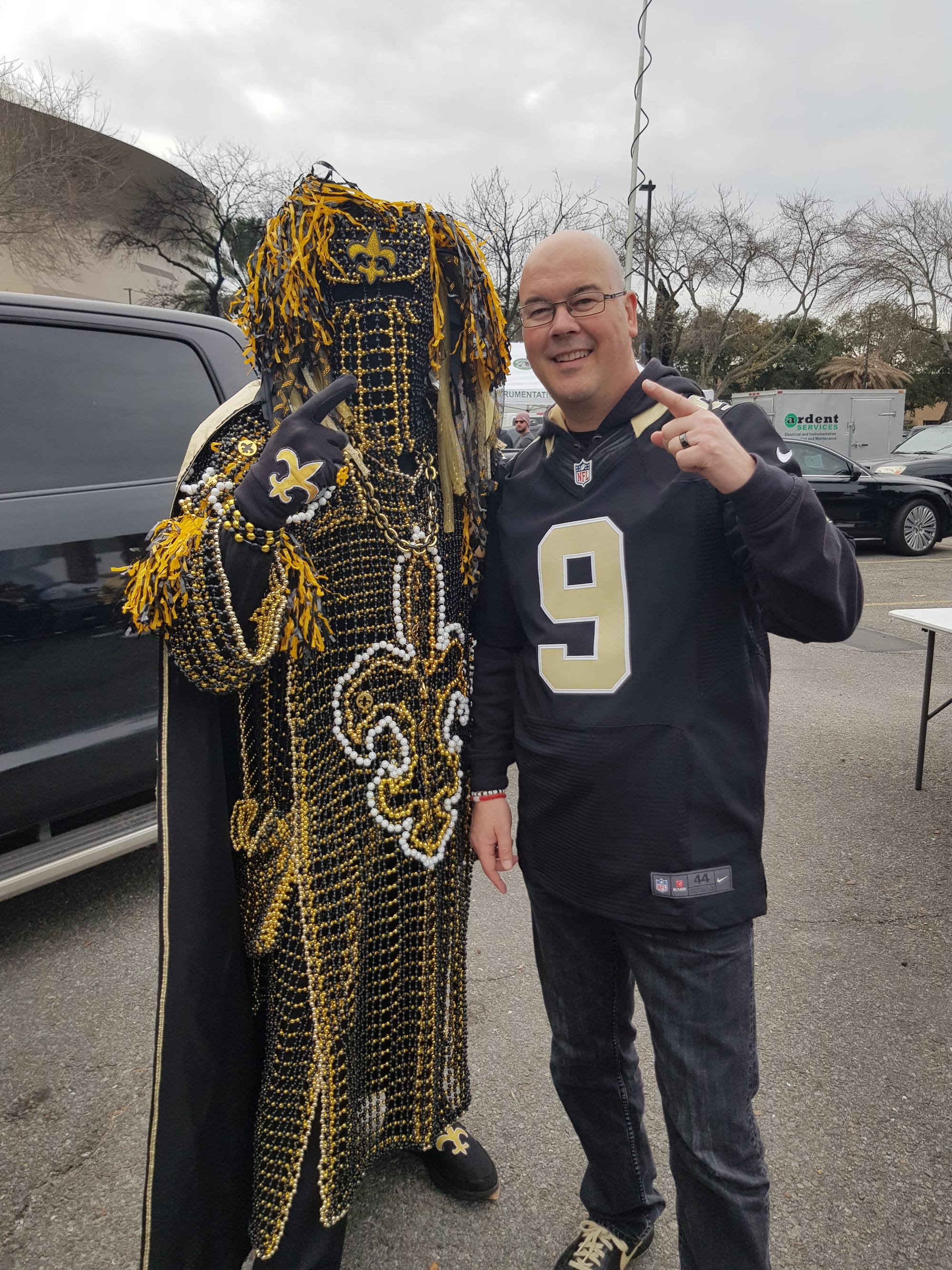 How long have you followed the Saints and what made you support them?
(It's kind of along story, so I will try to get to the point)
My NFL & Saints journey spans three continents and 5 decades. I was born and raised in Melbourne, Australia. In 1976 I was off to High School and to me and my mates surprise found that our PE teachers were American exchange teachers, Mike Lynn and Mike Novak. The Mike's knew nothing about our local sports such as 'Footy' (Aussie Rules) or cricket, so they decided to try teaching a bunch of 13-14 year old Aussie kids about this weird game they new and loved which we called gridiron. The Mikes had bought footballs with them but that was all. The American embassy sent some old reel game film and we made our own flags for flag football. I still remember watching game film and hearing the voice of a man I would later come to know as John Facenda. We were hooked. The drama of NFL films captured the interest of a bunch of High School kids immediately and we thought we were so cool.
We learnt to play flag football (badly I am sure) and we all chose our teams, most of us adopting the Mikes native team, disappointingly, the LA Rams. So I became a Rams fan, for no reason better than the Mike's. But It was hard to follow the game there with no TV coverage (only the Super Bowl was televised in those days). By 1989 I had a girlfriend, Lisa and a need to travel. We had planned to visit England but I had made sure that we would fly via LA, and took a punt when booking our trip that the Rams would get a home game. When the NFL schedule was announced (even getting that info was a challenge in 1989) our luck was in, the Rams were playing the New Orleans Saints! In those days, we had to call international directories to get the Rams telephone number, then call to order tickets. I then had to make out an International Money Order and send that before they would send the tickets. But eventually they arrived - one of the great excitements of my life! We eventually got to LA and went to the game at Anaheim Stadium. The date was Oct 22nd and Saints were on fire. Bobby and the boys won 40-21 and Lisa and I loved it – and wondered how we didn't know more about these Saints! We decided this US thing was fun so 2 years later, we headed back to the US; and went to a bunch of games, capping the trip off with a visit to New Orleans to see the Rams play the Saints again. Wow, what an experience. The people of New Orleans were awesome, the Dome was rockin and I couldn't believe the difference between the two experiences. We fell in love with the Saints (who won of course) and the Dome and everything about NOLA. We were hooked!
How often do you get to Saints game during the season?
I am very lucky that I work in International telecoms and get to the US reasonably often, and the fact that my wife is a huge Saints fan as well! We usually get 3 games in at least a season, with our record being 6 Saints games.
Favourite historical Saints player and why?
Controversial to some, but Bobby Hebert is mine. He was the first Saints QB we saw live and he was awesome!
Favourite current Saints player and why?
That's easy, Drew Brees. He really is a man who changed not just a football team but a geographic region. And he is the GOAT!
Best moment supporting the Saints?
Easy again, going to the Super Bowl in Miami to see the Saints win their first ever Lombardi trophy. The only disappointment we had was that we booked to go to Key West the following day when I should have booked a flight to New Orleans!
What are you expectations for the Saints this season?
If the defence can step up then I expect a playoff run. But we are in one of the toughest divisions in the league, its going to be hard. I expect a winning record though, 9 - 10 wins setting a low bar, hopefully they can exceed these expectations.
If its not the Saints, which team wins the Superbowl this season?
This is a hard one. I think if the Rams can click they will be a big chance. They have a lot of very expensive vet talent with some good young players. I also think that the winner might come out of our division but our competitiveness means its going to be hard to get a top seed.
Mark was the prefect person to do our first 'Meet the Fan' with as you can see from the answers above, we are very grateful that he agreed to be the 'guinea pig'.
If anyone else would like to take part in 'Meet the Fan' then please get in touch either through the website or via twitter on @saintsukhub.
Thanks for reading!
James