This week James spoke to DomePatrol 'boy' Neil McLoughlin about his love for the Saints, favourite all time player and hopes for the season.
1. Why did you start supporting the Saints and how long have you been a fan?
My first ever visit to the USA was in 1998, my first destination was New Orleans, part of a fly drive between there, Memphis and Nashville. What a city New Orleans proved to be, fell in love with it and had a passing knowledge of 'the Saints'.
Fast forward to 2000 and I returned to New Orleans, this time we had tickets to the Super Dome! 24th September 2000, 21-7 loss against the Eagles, but I loved it! Ricky Williams! Jim Haslett! Jeff Blake (Aaron Brooks didn't play)!
Loved the atmosphere, the Dome, the team, the colours, loved everything!
2. How many Saints games have you been too (In England or the USA)
Four games; 2000 v Eagles NOLA (L), 2008 v Chargers Wembley (W), 2010 v 49ers San Fran (W), 2017 v Dolphins Wembley (W). Would liked to have seen more but family ties took precedence.
3. Favourite historical Saints player and why?
Tough one, loved Ricky Williams (helped by the fact that I work with a man of the same name, although he's a Giants fan), Ricky Jackson, Deuce, Reggie Bush, Will Smith, Jonathan Vilma, Joe Horn, but my all time favourite is Willie Roaf. Why? Apart from being an amazing player, it's those glasses he used to wear!
4. Favourite current Saints player and why?
Brees will always be there or thereabouts as a favourite, but my real current favourites are Cam Jordan and Alvin Kamara. Both are so breathtaking to watch, we are so lucky to have them as Saints.
5. Best moment supporting the Saints?
The Super Bowl is too obvious, the Wembley game against the Dolphins, with my wife and 3 year old daughter (her first game and she was hooked, she even met Messers Pimble, Wright and Cummings) was really special, but my favourite...?
Booked a holiday to San Francisco shortly after our Super Bowl won. By pure chance and coincidence, the schedule came out and Monday night football was the 49ers v the World Champion Saints at Candlestick Park.
I took the (now) wife to the game, her first NFL game, and assured her all would be good. The city was full of Saints fans so we were having a great time.
I wore a Reggie Bush jersey and all seemed to be ok at the stadium. A few people puzzled why a Londoner was in SF supporting the Saints, but all ok otherwise.
Then it started to turn sour as we were beating them; Reggie had just handed his Heisman back, so he (and me, wearing a #25 Bush jersey) was taking a fair amount of abuse, then Reggie bust his ankle and the abuse intensified.
We won the game in the last seconds as I recall, we then had to find our way back to the city from their awful stadium (it really was awful, hardly any toilets or food facilities) with nothing but hostility and bad sportsmanship from the locals.
We got back, eventually, laughing at the way the 49ers had been beat and we're unablet o take it! The next day I made sure I wore a Saints t-shirt and no one had anything to say.
I think I hate the 49ers as much as the Falcons as a result, but being an away fan, seeing the Super Bowl holding Saints in action, still remains my best moment supporting the Saints!
6. What are your expectations for the season? Do they differ from what you thought at the beginning of the season?
I hoped we would be as good as last season, as I really think we should have been in the Super Bowl. Brees won't be here forever, so we had to make the most of the gold plated chances we have. I watched the loss to the Bucs but didn't think it was a true picture of the Saints, the same with the narrow win over the Browns, I knew we were better than that.
So now, I think we are where we we should be, we look awesome in offence, solid and yet still improving in defence, special teams a massive bonus and the whole operation clicking on all fronts.
7. If not the Saints which team is going to win the Superbowl this year?
I'd like to see the Chiefs get to the Super Bowl from the AFC, they play well and I think I have a crush on Patrick Mahomes playing style!
I don't see anyone else apart from the Saints getting there from the NFC!
8. On a scale of 3 to 28, how much do you hate the Falcons?
I despise them. As I said earlier, I think I hate the 49ers more based on personal experience, but the whole deluded Matty Ice, Rise Up, 'Quinning' great fans, great stadium media bullshit is just laughable. My favourite thing about them is the memes of Arthur Blank dancing at 28-3. And being seen on worldwide tv at Wembley wearing a Saints shirt, just before they choked a 20 odd point lead to the Lions! (See pics)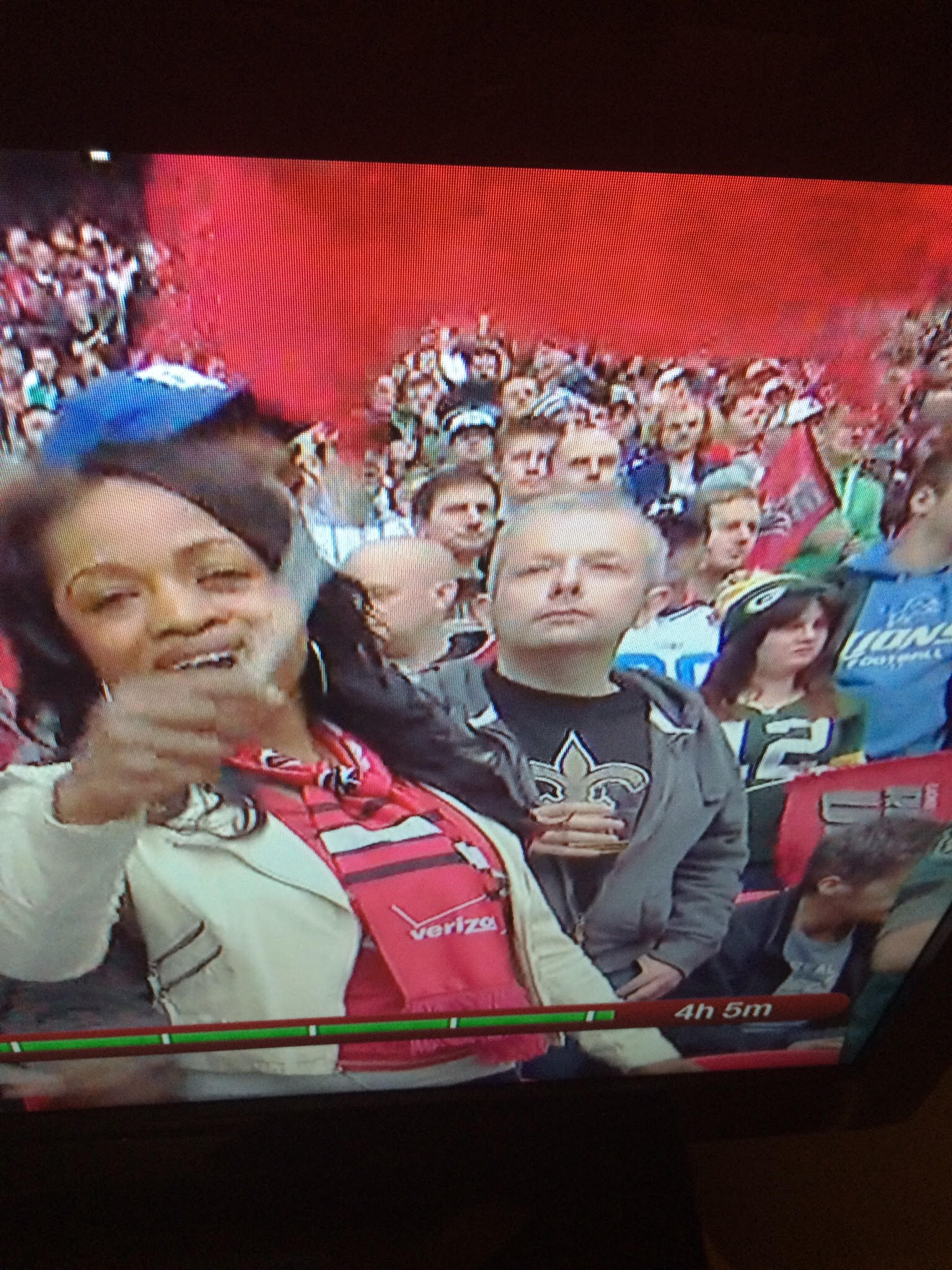 All they have are empty seats, bitter memories and delusional tasteless fans.
Huge thanks to Neil for taking part this week, hope you all enjoyed this, especially the 49ers story!
Whodat!
James