This week James caught up with fellow Cheltonian (although neither of us live there anymore!) original UK Saints Podcast member and huge Saints fan Ryan Cummings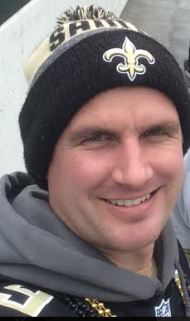 1. Why did you start supporting the Saints and how long have you been a fan?
I first became a fan back in 2008 when the Saints came over to play the Chargers at Wembley. There was no reason for me choosing to follow the Saints other then I had to pick one team that day to support and I went for the home team, also because the tailgate was awesome with all the jazz music and beads they were giving out!
2. How many Saints games have you been too?
I have been only been to 2 Saints games both when they have visited London but if it counts I sit on the sofa cheering for the Saints week in week out, I haven't missed a game. Hopefully one day i'll be able to make it to the Superdome.
3. Favourite historical Saints player and why?
My favourite position is running back so for me it has to be Deuce McAllister. The reason? I just thought he was a beast and got to say hi to him last year at Wembley. A complete who dat legend!!
4. Favourite current Saints player and why?
So my favourite player or players shall I say i'll give no clues they are Mark Ingram and Alvin Kamara, the reason? Ingram and Kamara bring so much juice to this team. You aint stopping these guys when they play together and they bring a run game which is so needed to this team! Also i love when Ingram runs angry and his going to be angry when he gets back
Oh and a little new favourite player that can play all over the field is our boy Taysom Hill talk about juice! he has got loads of it he is exciting when he comes on you never know what's going to happen.
5. Best moment supporting the Saints?
Ambush - Coach Payton's massive balls to do an onside kick after half time to win the ball and go on to win the Superbowl. And we have a ring and those dirty choking birds dont!! Haha.
6. What are your expectations for the season? Have they changed after three weeks?
This year I predicted an 11-5 no worse but was pretty annoyed after week 1 and 2 performances but looking back at the results now and how well the Bucs and Browns have done we did well to be 1-1 and then go to Atlanta and beat them I'm feeling pretty good.
7. If no the Saints which team is going to win the Superbowl this year?
Saints are going all the way!
8. How did you get involved in the start up of the UK Saints Podcast?
Ben and Ash asked if I'd be interested in being a part of doing a podcast and of course why not it was great to know there were other Saints apart from myself in the UK which I thought for years I was the only one! And from doing this podcast I've met lots of other Saints fans and 3 very good friends!
And If you are a listener to the podcast I apologise that you have not been graced with my squeaky voice yet but next week I'm back as I had to take a break! And before you hear it on the podcast I'm not back because we are winning (he is really!)
Thanks to Ryan for taking part this week and I think i speak for Ash, Ben and myself when I say it will be good to have Ryan back on the podcast from next week!
WhoDat!
James