Last weekend we put up a poll on twitter for the fans to vote on who they thought were the offensive and defensive MVP's for the regular season. Thank you to everyone who took part - The results are below:
OFFENCE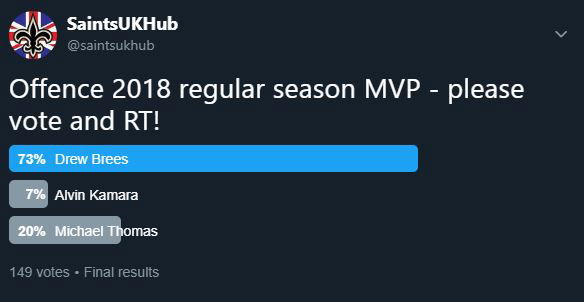 The fans have voted DREW BREES as the offensive MVP for the 2018 regular season in a landslide victory!
Every Saints fans knows what Brees achieved this season, multiple NFL records were smashed including the most career passing yards, most completions and breaking his own completion percentage record. His final stat line this year read:

We also have to bear in mind that due to the Saints getting home field advantage in week 16 Brees missed the final game. To complete just under 75% of your passes in a season is unreal and we are all hoping that Brees continues his form all the up until the first weekend in February.
DEFENCE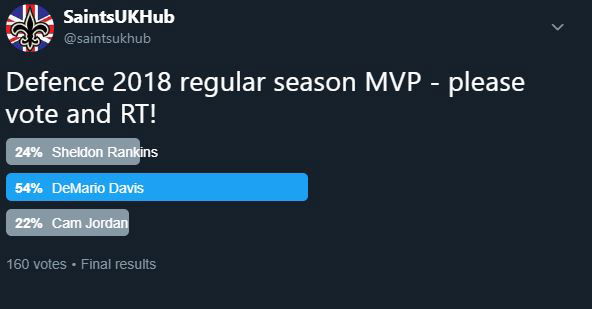 This vote was slightly closer than the offence but still has a clear winner in DEMARIO DAVIS!
The signing of Davis went under the radar in the off-season but what a signing it has proved to be, he has transformed the defence this year, especially against the run. His presence in the locker room has been a huge boost also.
His final stat line for the regular season was:

Davis has been the best LB we have had since Jonathan Vilma and we all hope he can be a key piece for the playoff run.
Any comments appreciated!
WHODAT!
James