This has been the talking point since week one of the preseason, who should be the backup quarterback? Some fans are happy that Teddy became QB2 and quite a lot were unhappy that Taysom was not, as the fan account owner I see it every day from fans going at each other's throats on why Teddy is QB2 and why Taysom should be QB2, I am in the Teddy camp and for multiple reasons, one being he is a seasoned vet brought in to be the starter if the unthinkable happened to Brees, that's why the Saints gave Teddy the 1 year deal of 7 million guaranteed to be the light when it all goes dark, another reason is I don't feel Taysom could deal with the responsibility and pressure of being under centre in a regular season game and clearly the Saints think that too otherwise they would have bumped Taysom's salary up and let Bridgewater out the door, Teddy stayed with New Orleans when his Native Hometown of Miami were looking to pry him away from the Bayou and bring him to South beach, he turned down a 2 year 10 million dollar contract and a possible starting job.
As fans we should rally behind Teddy as we would with any other quarterback that chose to stay rather than leave, the whodat nation love Taysom and I understand he is the Swiss army knife of the Saints he can do anything but, the whodat nation can turn quickly on a player if you do not perform well straight away.
Bridgewater has many years as the Vikings QB and has shown he can deal with the scrutiny of fans and media and also be a leader of this team, I have seen people calling for Bridgewater's head because he didn't produce in the Rams game, not realising the entire Saints team were in shock that the man who is the beacon of the team, the leader of this team has gone down with injury, not to mention a formidable defensive coordinator in Wade Phillips keeping the Saints offence quiet.
I am in two minds when it comes to Coach Payton saying he going to have a 2 quarterback game plan where clearly both backup and 3rd string will be sharing snaps come Sunday in Seattle, on the positive side I know that it causes headaches for Ken Norton Jr the Seahawks defensive coordinator as they don't really know how to plan for this and we have not seen this type approach with two quarterbacks before, it's something that Coach Payton has the stones to try! On the negative side it could go horribly wrong, has the team had enough time to adjust to the idea of two quarterbacks and the offence get used to the Teddy/Taysom tandem of throwing the ball in one game…. We will see on Sunday.
The question has had me in two minds even to me writing this so I decided to poll it on Twitter which got 265 votes, 60% of the fans voted said they are excited to see it happening, 17% said it should be Hill only under centre, 12% are concerned with playing the two quarterbacks in one game with 11% showing love for Bridgewater being the only QB that should take the snaps, which brings me to my final question and it is a great one at that, is Coach Payton doing this because he still is not sure who QB2 is, will he use this game to say right you excelled in the Seahawks game we are going with you Teddy or you Taysom to carry this team until Brees returns….. And really think about that possibility because that is what I have thought about and can see happening.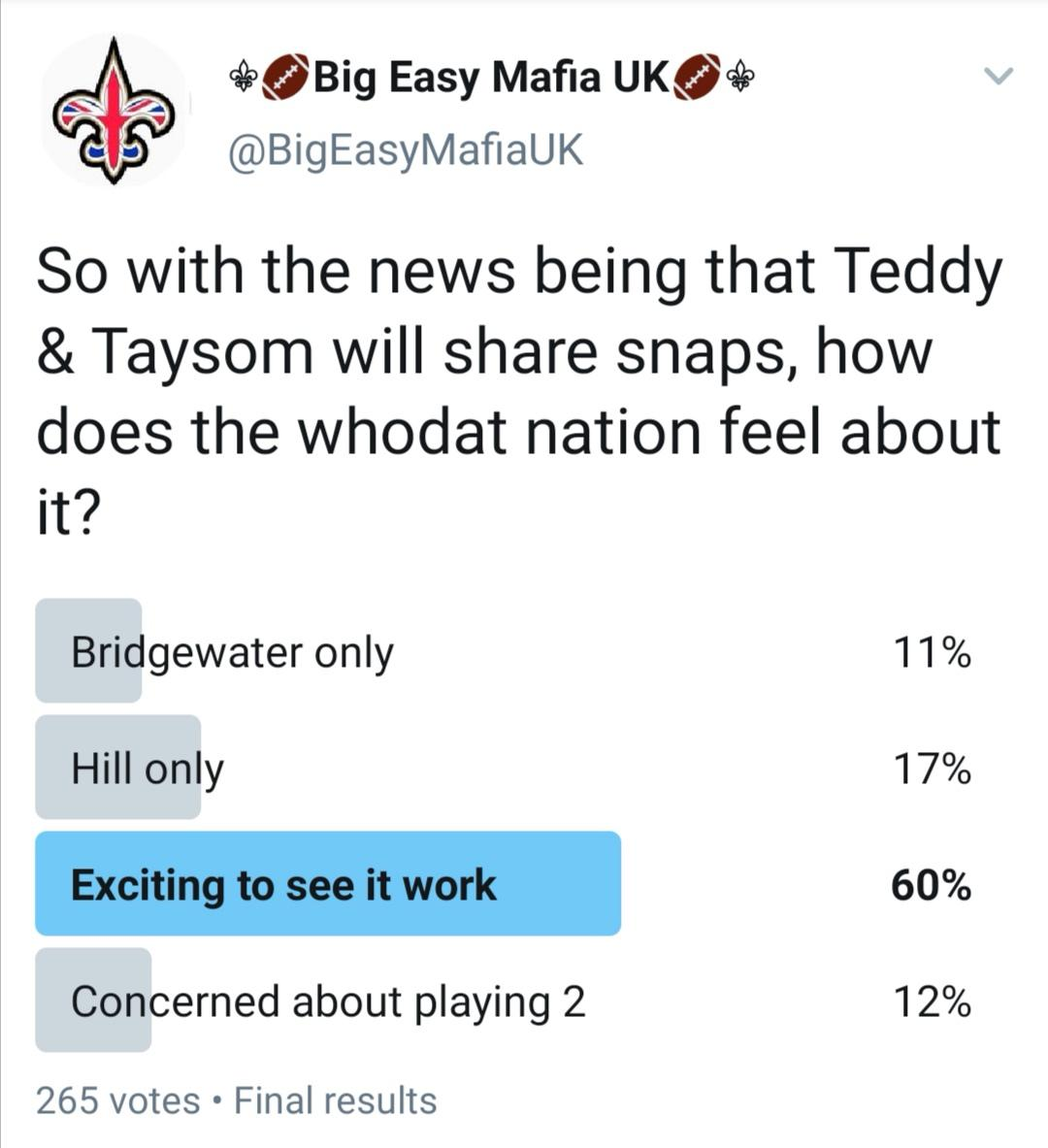 I would love to hear your comments and thoughts on this because it's a very surreal situation to find myself in as a fan because I have always seen #9 under centre and these next 6 weeks or so will be an interesting watch, before I head off I just want to say thank you for taking the time to read this and I wish Mr Drew Brees a speedy recovery and to see our GOAT and 1st round ballot hall of fame quarterback back in the black and gold asap!
WHODAT!
Ash